Welcome to our monthly gallery of best practices and tools from your Center for High School Success partner schools in Oregon and Washington. Below, your coaches have collected timely tools and featured practices from across our region to help support you, your team, and your 9th graders! Please reach out to your coach if you have any questions, feedback, on input.
October, 2023
Our success in helping schools increase 9th grade on track rates is rooted in our belief that we are stronger together: CHSS is an approach, and not a program. Foundational to this approach is our network, and as we look forward to seeing you at our upcoming Fall Collaboratives, we are eager to continue to learn with you, and to share the best of what your peers are doing across our region. In our 3-part learning series this year, we are sharing strategies for increasing the effectiveness and efficiency of your interventions. Our Fall Collaboratives are designed to help your team better facilitate student belonging and self-regulation skills, specifically to:
Identify barrier behaviors to student success, determine replacement behaviors needed for success;​
Develop academic and behavior goals that align with root cause and competency development​;
Identify and discuss potential "shifts" in your intervention process.
With this focus in mind, our October Timely Tools and Featured Practice are focused on planning and implementing skill-building INTERVENTIONS. If your team members have yet to register, we have an array of available options, please view and register ASAP here.
CHSS and OSPI News: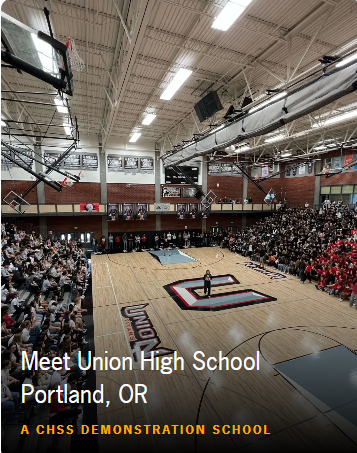 CHSS DEMONSTRATION SCHOOL LEARNING LABS! Join the Center for High School Success for a Demonstration School Learning Lab where you'll have the opportunity to see best practices and strategies from our CHSS Roadmap in action and collaborate with other educators in our national CHSS Network! These visits are a great opportunity for high school educators and district leadership to learn about 9th Grade Success work through seeing it in action. Visit this link to learn more and register!
CHSS SPOTLIGHT WEBINARS LAUNCHING THIS MONTH! This October, CHSS Spotlight Webinars are launching with spotlight school Estacada High School in NW region. The year's Webinars are designed to scale best practices across the CHSS Network. Participants will hear directly from the school team and have an opportunity to collaborate with CHSS Coaches and Network partners. Look for an invitation from CHSS via email, and ask your team lead if you don't receive an invitation.

CHSS LEADERSHIP NETWORK! This new network launched in September, and the next session will be on October 24th at 8amPST/11amEST, please let CHSS Coach Rebecca Bancroft know if you'd like to join the session.
OSPI UPDATE: For our grant-funded partner schools, please keep an eye out for communication from OSPI regarding your budget meeting, and once received please confirm this meeting date with our NW Regional CHSS Director, Henterson Carlisle.
Calendar
CHSS Fall Collaboratives!
This October, we will gather to present the second part of our 3-part series "Interventions 201." We are trying to leverage existing PD days (LID days, etc.) to maximize resources and networking opportunities. As such, we are providing an array of participation options. It's not too late to register, just have each individual who will attend fill out this form.
10/6: IN PERSON

Puget Sound, Talley High School in Renton
Central WA, Yakima ESD 105

10/13: IN PERSON

Northwest Washington, Whatcom Community College

10/20: VIRTUAL

12-3 PM (1-part session on Zoom)

10/24 & 10/25: VIRTUAL

3-5:00 (2-part sessions on Zoom)
New Team Member Onboarding
10/19, in person: If you have new team members or team members who could use a refresher, consider sending them to our onboarding event at Heritage High School in Vancouver, WA on October 19 from 3:30 – 5pm. Please ask folks to register so we know who is coming. Here is the registration link: Thank you for hosting, Heritage!
CHSS Leadership Cadre, Second Meeting!
10/24 8am PST This new national support and learning structure for 9th grade administrators offers support, professional networking and learning opportunities. Principals, Assistant Principals, and District Leaders are welcome to join any time. Please register here if you haven't done so already!
Timely Tools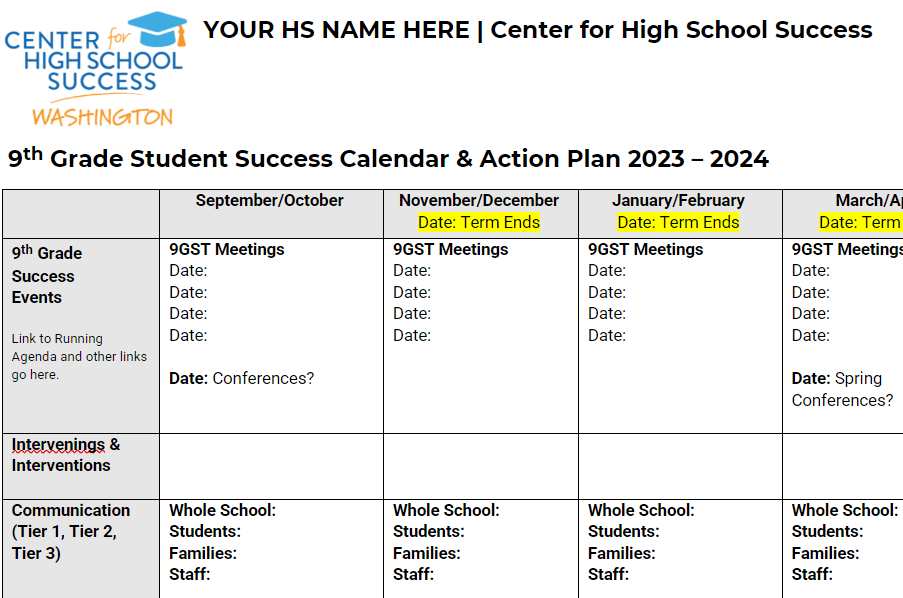 ACTION PLANNING: WITH YOUR TEAM
This CALENDAR & ACTION PLAN TEMPLATE is a planning tool that can be used all year long. It has space for your meetings, important events, data, communication, interventions and more! Teams use it as a central document to share with the principal, team lead and coach.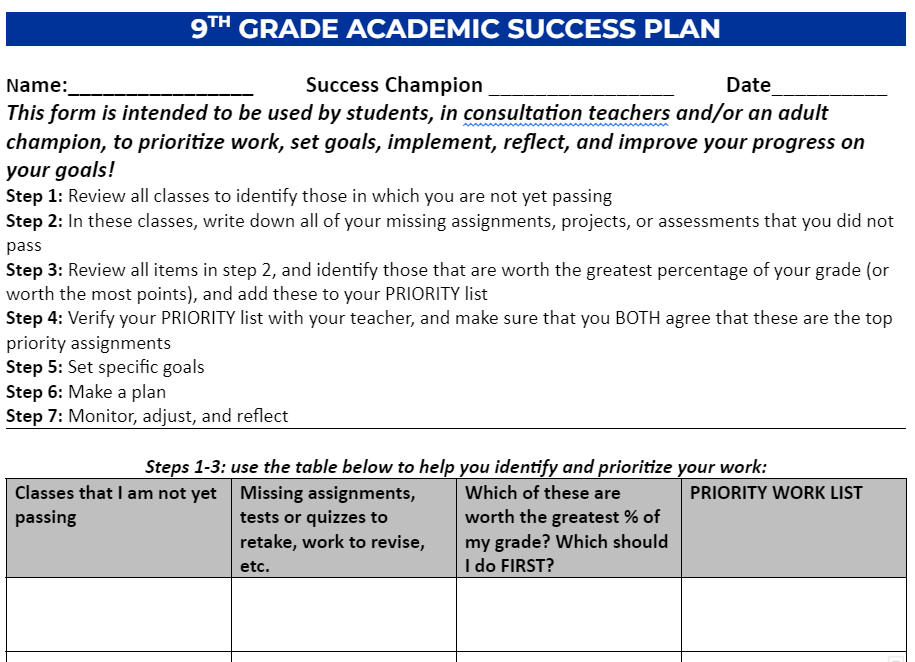 ACTION PLANNING: TEACH STUDENTS TO PLAN, PRIORITIZE & REFLECT
This PRIORITY WORK PLANNING TOOL is used by many of our most successful teams on a weekly basis to teach self-regulation skills, specifically:
Early in the week: review all classes, identify missing work, prioritize work to focus on those with the most impact, and make a plan
End of the week: reflect on outcomes, barriers, facilitators of success, and goals for continual improvement the next week!
Featured Practice
Interventions: Provide explicit instruction and ongoing supports to 9th graders on how to "do school" well. This month we highlight practices under our Interventions driver on the CHSS Roadmap.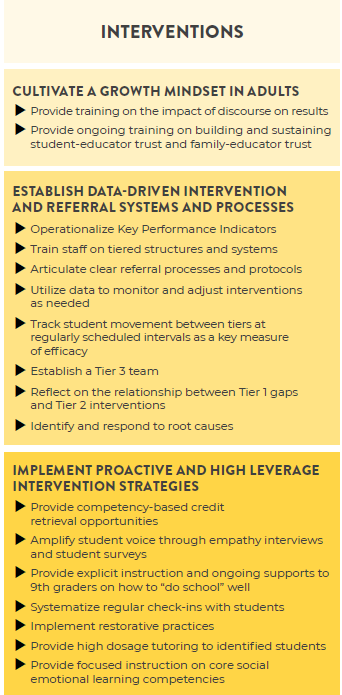 We learned in Interventions 201: Part 1 that the best interventions teach skills that students can take into a variety of settings. We also know that in competency based skill instruction we want to be proactive and direct, with lots of opportunities for students practice new skills with peer and adult feedback. We want to plan across the grade level to ensure that we provide cohesion across the student's day, with time to practice skills across settings. Here are some examples of schools who are designing interventions that teach students about self-regulation:
At Evergreen High School in Vancouver, students use GPA trackers on a regular basis to make plans, set, and monitor goals. This is delivered in core content classes.
At Kelso High School, students are utilizing a credit check calendar to review their credits each week to make targeted plans. The team collaborated to build a common form.
At Lynden High School, students use the Action Planning Template above (see Timely Tools) to review missing work, prioritize those that are the most impactful for their grades, and reflect on barriers and facilitators of success.
At Renton High School, students are provided with the RHS Action Plan Sheet, including scripts to engage in conversations with adults to improve their grades Importantly, teachers are ALSO provided with these Check and Connect 1F scripts to ensure that these conversations are supportive and productive.
Previous SNAPTSHOTS