The Center for High School Success is proud to announce our 2023-24 Demonstration Schools. CHSS Demonstration Schools are chosen for their sustained improvement, consistently high 9th Grade On-Track Rates, and exemplary implementation of the CHSS Roadmap. Additionally, Demonstration Schools receive the recommendation from a CHSS 9th Grade Success Coach.
Demonstration Schools partner with CHSS to showcase the exemplary 9th Grade Success Work to support deep learning for the current national network of high schools and to recruit new schools and districts to engage in 9th Grade Success Work.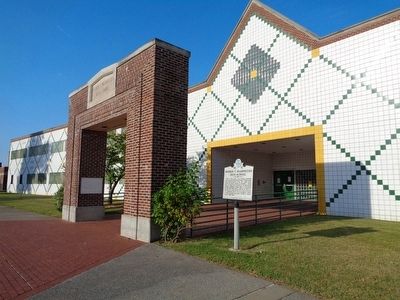 Meet Booker T. Washington High School in Memphis, Tennessee
Across the four years of partnership with CHSS, Booker T. Washington High School, a small school steeped in American history, has embedded structures and systems to keep their 9th Grade On-Track Rates between 91%-96%.
CHSS Southeast/Midwest Regional Director, Lori Oduyoye, shared her experience working with Booker T. Washington (BTW) High School saying, "I am most proud of the 9th Grade Academy Team. All members go above and beyond to fulfill their role on the team to ensure the success of 9th graders."
She also highlighted BTW's annual high school induction ceremony for 9th graders where the entire school, families, and other school stakeholders celebrate and welcome 9th graders to high school.
Senior Reading Advisor, Jaclyn Boyd, shared more about Booker T. Washington High School.
Tell us a little about your school community.
Booker T. Washington High School was the first African-American high school in Memphis, Tennessee. It continues to serve students in South Memphis and surrounding neighborhoods. BTW has a rich legacy of impressive leadership and high recognition. In 2011, BTW was selected as a Race to the Top school and awarded the honor of having President Barack Obama deliver its commencement speech. This school is small in size, but giant in legacy. We continue to strive to provide academic and community excellence to enhance the lives of scholars.
Tell us a little about your school's history with 9th Grade Success Work?
Although BTW already had a 9th-grade program that considered first-time high schoolers, partnering with Center for High School Success solidified and organized the visions and goals that were set in place. Over the past four years, BTW has been able to collaborate with other schools, organize goals and agendas, designate roles, and disaggregate data using strategies implemented by CHSS to improve student outcomes. Our outcomes have improved and our strategies have been streamlined as a result of our partnership.
What are you most proud of?
I am most proud of the opportunities we have implemented for freshmen to take ownership of their grades, make changes, increase attendance, and prevent failure.
What has been an obstacle you've been able to overcome?
One obstacle we have been able to overcome is reducing our failure rate by offering tutoring, amnesty days, and re-dos on assignments when students need them.
Finish this sentence. "9th Grade On-Track Work/9th Grade Success Work has been transformational at our school…"
9th Grade On-Track Work/9th Grade Success Work has been transformational at our school by streamlining our systems and procedures.
How has partnering with CHSS been transformative?
Partnering with CHSS has been transformative by providing effective meeting strategies and helping us organize data in a meaningful way.
Anything else you'd like to share?
The Freshman Academy team at BTW has changed over the years, with only two original members. However, the current team has stepped up to the plate to create a cohesive environment. We have strived to create memories, opportunities, and experiences for our students to thrive in spite of being in one of the poorest zip codes in the United States of America. I am grateful to have such a support group of colleagues to do this "heart" work with.
This year, CHSS is partnering with our Demonstration Schools to host Learning Labs, which are designed to be an immersive experience wherein participants have an in-depth learning opportunity to see best practices and strategies from our CHSS Roadmap in action at a Demonstration School. These visits are a great opportunity for high school educators and district leadership to learn about 9th Grade Success work through seeing it in action. Both current CHSS network partners and prospective partners are welcome! View the dates and register to attend here.