The Center for High School Success is proud to announce our 2023-24 Demonstration Schools. CHSS Demonstration Schools are chosen for their sustained improvement, consistently high 9th Grade On-Track Rates, and exemplary implementation of the CHSS Roadmap. Additionally, Demonstration Schools receive the recommendation from a CHSS 9th Grade Success Coach.   
Demonstration Schools partner with CHSS to showcase the exemplary 9th Grade Success Work to support deep learning for the current national network of high schools and to recruit new schools and districts to engage in 9th Grade Success Work.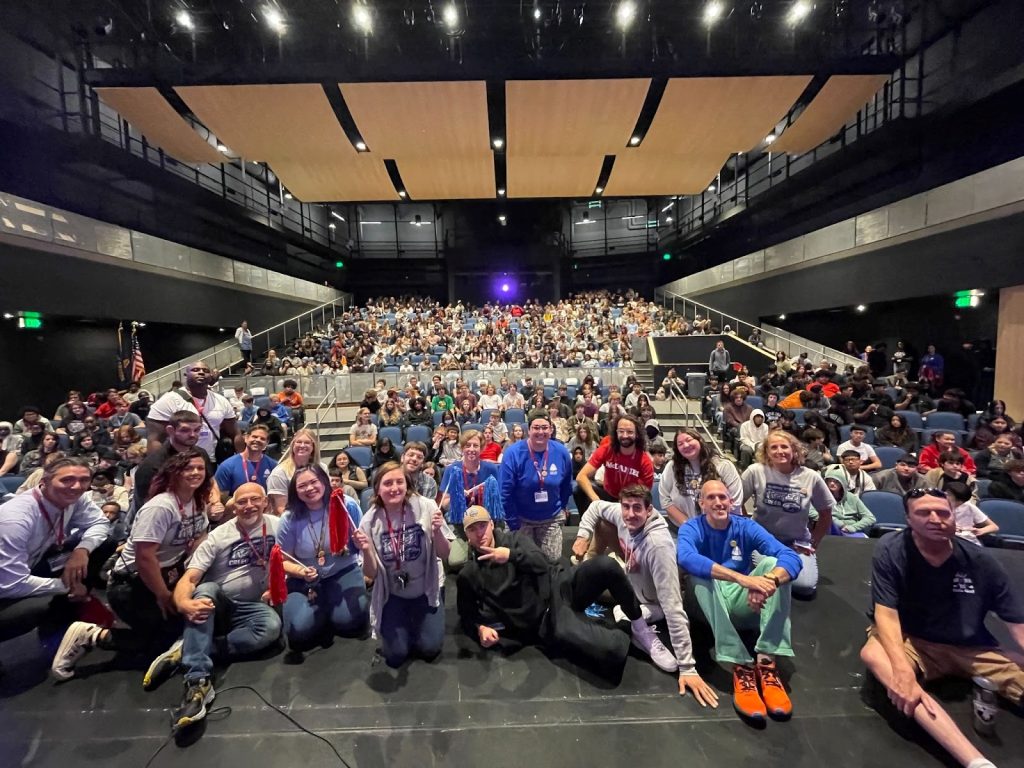 Meet McDaniel High School in Portland, Oregon
McDaniel High School, a large, diverse high school that was one of the very first schools to partner with CHSS five years ago, increased 9th Grade On-Track Rates by 27%.
CHSS 9th Grade Success Coach, Kristin Romano, shared her experience working with McDaniel High School saying, "I'm excited for others to hear about how 9th grade teacher collaboration contributed to schoolwide fair grading practices."
SST Lead & 9th Grade Instructional Coach, Kim Kanof, shared more about McDaniel High School.
Tell us a little about your school community.
Note – Demographics reflect the 2022-23 school year
Our Northeast Portland school once named after the fourth president of the United States is now named after Leodis V. McDaniel, a greatly respected, well-loved, and highly-celebrated Portland community leader who gained an impeccable reputation as an administrator at Madison High School in the 1970s and 1980s. In 2021, the Portland Public Schools Board of Directors unanimously approved Resolution No. 6251 to change our school name. Our school serves neighborhood students and many transfer students grades 9-12.
The rebuilding of our school transformed the former 1957 facility into a next-generation learning environment that serves the city's most culturally diverse student population. A five-year planning and design effort involved hundreds of school and community stakeholders through a series of hands-on interactive workshops. A new Performing Arts and Career Technical Education (CTE) wing brings together state-of-the-art music and theater facilities with real world robotics, engineering and digital media labs. The new athletics facility includes a 1,700-seat gym, an auxiliary gym, a weight room, and exercise, health and wellness spaces. Our Sustainable Agriculture program now has a flexible lab, greenhouse and large teaching garden alongside the STEM wing.
McDaniel is a public high school of approximately 1,442 students in an urban setting. Students come to our school from 8 different K-8 buildings. We serve a diverse community of learners. Currently, 11.8% of our students identify as Asian, 1.7% as Non-Binary, 13% identify as Black, 25.3% identify as Latino, .7% Native American, 1.8% Pacific Islander, 36.8 % White, 13.8 % ELL, 14.1% SPED. Many of our students are from low socio-economic backgrounds. For this reason, all students in our school are eligible for free lunch and breakfast. School-wide, 14% of our students receive special-education services, 14% are English-language learners, and 13% are designated talented and gifted. 2021 was the inaugural year for PISA (a newcomer program), which increased the number of newcomer students at McDaniel significantly. Currently we have 75 students who have been in the country two years or less and are at an emerging level of proficiency in English. We offer sheltered core classes in ELA, Science, Math, and Social Studies as well as targeted support in English through English Language Development classes. We have 28 different languages represented at our school.
Vision: Our vision is aligned to the Portland Public Schools Graduate Portrait. A graduate of Portland Public Schools will be a compassionate critical thinker, able to collaborate and solve problems, and be prepared to lead a more socially just world.
Mission: Our mission at McDaniel High School is for all students to access an engaging and inclusive education defined by diversity and respect. All students will graduate from high school empowered with critical skills necessary for success in higher education, career, and community engagement.
Values: Our core values are CREED. We are a Community that Respects each other and Education through Equity in order to honor and empower our Diverse population with the skills and tools necessary for all students to graduate and be successful in college and career. We review and update these statements every year with key stakeholders like our instructional team and school staff.
Tell us a little about your school's history with 9th Grade Success Work?
McDaniel High School has had a long history of 9th grade success work. Our students have traveled in academies for many years and we were one of the first schools to partner with CHSS. We started our learning with the Network for College Success out of the University of Chicago and now we are in our 6th year of a district-wide initiative that allows us to expand the work we're doing with small communities of 9th graders. State funding has been used for release time for teams of teachers to focus on 9th grade success goals during the school day and to fund a 9th grade success lead for our school. Our 9th grade success lead is a data champion and facilitates strength-based meetings with teachers.
What are you most proud of?
In our 9th grade program we center restorative justice practices, equitable grading, project-based learning, student empathy interviews, and PTHV Home Visits. Student voice informs instructional practice in our 9th grade classrooms. Our teachers use common practices across 9th grade academy teams to increase 9th grade on-track rates.
What has been an obstacle you've been able to overcome?
The bridge from 8th-9th grade is an obstacle we have faced. Our incoming 8th grade data is often incomplete and we have students coming to our school from many different middle schools. To overcome this obstacle we have started partnering with our middle schools and have brought a summer bridge program called LEAP into 9th grade to our school. We have started to bring our Strength-Based Student Success Protocols to 8th grade teachers and have brought Tier 2 focal 8th graders over to McDaniel for early connection and relationship building.
Finish this sentence. "9th Grade On-Track Work/9th Grade Success Work has been transformational at our school…"
Our 9th grade teachers use a variety of data points (student work, empathy interviews, attendance, course passage, and parent home visits) to help identify instructional shifts to increase student engagement & 9th grade on-track rates. Successful shifts in the 9th grade year become embedded practice in grades 9th-12th.
How has partnering with CHSS been transformative?
The roadmap for 9th grade success has helped identify areas we can grow-in as a school. We really enjoy attending collaboratives in our state to learn about new research and strategies to keep 9th graders on-track to graduate. At the last CHSS collaborative we gained resources to teach self-regulation to 9th graders and plan to embed lessons into our College and Career Education (CCE) classes.
Anything else you'd like to share?
Community is at the heart of our 9th grade success program. We bring students, community partners, counselors, families, and staff members together to discuss ways to get our 9th graders on track to graduate. The work is transformative because we center students.
This year, CHSS is partnering with our Demonstration Schools to host Learning Labs, which are designed to be an immersive experience wherein participants have an in-depth learning opportunity to see best practices and strategies from our CHSS Roadmap in action at a Demonstration School. These visits are a great opportunity for high school educators and district leadership to learn about 9th Grade Success work through seeing it in action. Both current CHSS network partners and prospective partners are welcome! View the dates and register to attend here.