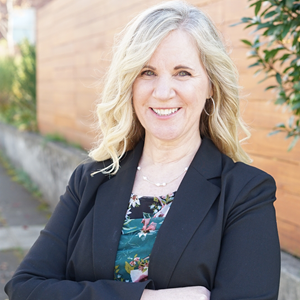 Jennifer is a 9th Grade Success Coach in Washington. Jennifer has 33 years of K-16 experience in multiple states–initially a band director and math teacher, then as a principal for 24 years in urban, suburban, and alternative settings, most recently a high school principal for 16 years in south Seattle. Her doctorate illuminates new challenges and opportunities in township schools in post-apartheid South Africa, a place that grabbed her heart while exploring restorative justice though the tenets of the Truth and Reconciliation Commission.
Jennifer knows first-hand the power of education and the difference teachers make in the lives of students. 9th grade Jennifer was class president, thrived as a musician and multi-sport athlete. Her powerful education during her formative years, despite extreme hardship at home, launched her commitment toward developing schools where all students experience a profound sense of belonging and are equipped to pursuit their biggest dreams. She possesses a laser-like focus on serving students and families that have been systematically place furthest from justice.
Jennifer loves team development whether playing steel drums during jouvert morning in Trinidad or improving 9th grade success, she firmly believes that human connection is why we are here. Notably, her Boston Terrier, Zazu, that pet connection is oh-so-wonderful too!
In 9th grade Jennifer was elected class president and learned the tenets of service leadership in a school that was dedicated to the same.